Intelligent Blogging 
There are many compelling reasons for a brand to start writing and publishing high-quality, content-rich blog posts as part of their digital marketing strategy. In addition to helping your business be perceived as more trustworthy and authoritative, increasing your connectedness to humanity, you can gain a competitive advantage, be 13x more likely to achieve a positive ROI, and receive 55% more website visitors.Companies who blog may benefit by:
Offering visitors something of value; a reason to return and invite others to your site

Positions you as a trusted expert in your field; demonstrating expertise and authority 

Shows your emphasis on CX and UX – customer and user experience

Builds brand loyalty and strengthens customer relationships

Provides useful insights into your target market's buyer personas

Increases social media presence; exposure when others share content from their site

Improves SEO and GoogleRankings for important keywords and phrases

Brings in larger amounts of traffic for increasing leads and conversions 
With this in mind, starting and sustaining a successful blog, even if you are an expert in the field, requires an immense amount of work, time, energy and skills. It takes planning and resources to consistently write and frequently publish well-written, engaging, original content that resonates with your audience. It is also important to learn effective blogging, website and social media integration techniques, and optimize your posts around specific keywords and phrases to ensure you are giving your business a boost in organic search results. 
Defining and incorporating Blogging into your Digital Marketing Strategy
Your blogging strategy is defined by your Digital Marketing strategy, which aligns with your Business Strategy. I love Robert Katai's Blog Post "8 Different Blogging Goals to Help Grow Your Business," taken from Rand Rishkin's Whiteboard about SEO Blogging"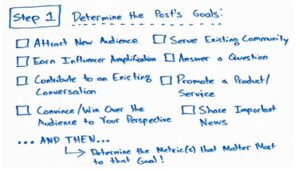 Based on your Digital Marketing Strategy, you want to define your blogging goals, possibly including elements from Robert and Rand's in addition to resources (budget, people, technology). Once defined, designing an integrated approach with your communication tools (app, website, social media, e-newsletter, etc.). Next, ideate on what you would like to write about, aligning topics with your marketing campaigns for at least three months. Then supplement topics with a calendar so you know exactly what to write about and when, keeping in mind annual, monthly and daily holidays that may be interspersed to make content fresh, relevant and interesting. Google and its users love and appreciate fresh and frequent content, which can help boost your rankings! 
Conclusion
Insightful, relevant and engaging blogs have become an important communication tool in the digital age. It allows for an open dialogue between bloggers and readers, and it enables people to express their ideas and opinions to a large audience. Blogging also helps organizations and individuals build brand awareness, showcase their expertise, and increase engagement with customers and prospective customers.
So here we are with all of these blogging ideas to consider as you and your team make a decision to blog. Next time we will talk about "Getting Started", which is half the work in blogging.