News: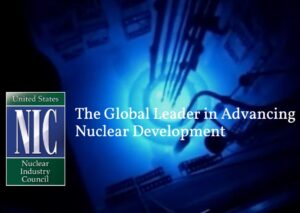 USNIC Expands Focus on Promoting New Nuclear through U.S. Government Deployment
of Micro and Small Modular Reactors
Washington, DC – The United States Nuclear Industry Council (USNIC) announced today that it is expanding its focus within the U.S. government to support the nuclear industry's intergovernmental coordination for deployment of micro and small modular nuclear reactors.  "Our goal is to assist industry at all levels within the government to meet the current and anticipated demands for advanced nuclear technology.  We are initially concentrating our efforts within the Department of Defense (DoD), although we are not limiting our focus exclusively there," said C.H. "Bud" Albright, Chairman,President and CEO of USNIC.
"As the benefits of advanced nuclear technology become abundantly clear, the need increases to assist industry and the government in deployment of smaller and safer means of generating electricity.  Among the first-movers in government toward this goal is the Department of Defense where recognition of the need to deploy advanced technology for security purposes, and for the benefits of zero emission generation of electricity, is becoming clear.  Advanced Nuclear Technology aids in making DoD's domestic infrastructure more resilient to an attack on the electricity grid.  Moreover, these reactors enhance the ability to respond quickly with delivery of electricity for forward operations, and to avoid system outages, without increasing carbon emissions," Albright continued.
Events:
GOVBRIEF – INDUSTRY BRIEFING
The $1.2 Trillion Bipartisan Infrastructure Investment Jobs Act that President Joe Biden signed on November 15th, 2021 adds 2 million jobs per year for the next 10 years, providing small business the opportunities to partner with State Government in securing infrastructure contracts.
It is important to stay ahead of the game and be ready to participate as a Prime or Sub Contractor when the money flows to States for: Rebuilding America's ports, airports, rails, and roads, expanding access to clean drinking water, providing Americans with high-speed internet access, tackling the climate crises, advancing environmental justice, and supporting disadvantaged communities.
---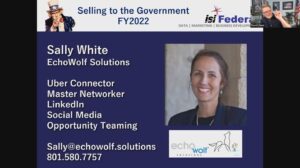 SELLING TO THE GOVERNMENT
---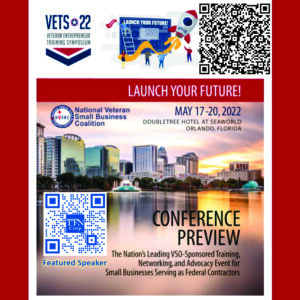 VETS 22
The Veteran Entrepreneur Training Symposium is a business development conference created by successful Veteran business owners for Veterans who are looking to enter the Federal marketplace. 
VETS22 brings together Federal agencies, contractors and Veterans to discuss ways to take full advantage of the federally mandated contracting for veteran-owned small businesses.
VETS22 will feature educational sessions, one on one business matching, over 100 exhibitors with federal agencies, prime contractors, and small businesses, with plenty of networking opportunities to help grow your business.
---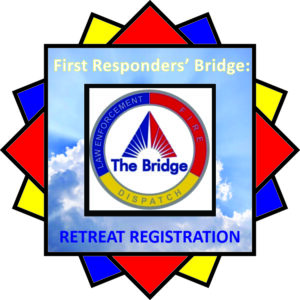 First Responders' Bridge Retreat: July 15-17, 2022
Thank you for your interest in attending our First Responders' Bridge Retreat, which will be held July 15 – 17, 2022.
Click here to view retreat agenda.
Please note that registration for this retreat is for first-time attendees. If you have attended a previous retreat, we will be having a follow-up retreat that you will receive a private invitation to.
NOTE: When you register for your hotel room, if it says that "all rooms are full for our group", please call the Hotel Rooms Manager directly- Michael McCann- 614- 336- 4720. Make sure you tell him you are with the "First Responders' Bridge group" so they will add you to our account so you will not have to pay for your lodging. After you receive your confirmation number add it to your registration form below. If you have already completed your registration form, please email your confirmation number to [email protected]    Thank you.

Let's Get Real
Learn from the experts who have proven track records of bidding and winning Billions in federal sales!
Find and develop opportunities BEFORE they hit the street
Develop proactive marketing to get in front of decision makers
Help federal stakeholders frame the scope of work
Get on the Shortlist!
Get SOLE Sources!
Federal Contracting Facts….
98% will not hit SAM.gov
76% of contracts are competed between 5 or fewer companies*
37% of awards have only ONE response*
93% of contracts go to companies who proactively market
100% of budgeted dollars for 2021 was spent by 9/30/2021


International Perspectives on Nuclear Energy in Green Taxonomy
When: Monday, 28 February 2022
Time: 2:00 PM – 3:30 PM CET / 8:00 AM – 9:30 AM EST / 4:00 PM – 5:30 PM MSK
This webinar aims to discuss new policies and current practices of including nuclear energy in the green taxonomy across various countries.
The International Framework for Nuclear Energy Cooperation (IFNEC) provides a forum for cooperation among participating states to explore mutually beneficial approaches to ensure the use of nuclear energy for peaceful purposes.
The Nuclear Innovation: Clean Energy Future (NICE Future) initiative leads the global conversation on the roles nuclear energy can play in clean energy systems of the future.
State Atomic Energy Corporation Rosatom is one the global technological leaders. It is a multi-industry holding comprising assets in power engineering, machine engineering and construction, among others.
CONFIRMED SPEAKERS
Aleshia Duncan, Chair, IFNEC
Adoración Arnaldos Gonzalvez, Leader of the Women in Nuclear (WiN) Global Group on Nuclear Innovation Initiative
Alexander Kormishin, Chairman, BRICS Youth Energy Agency
Erik English, Division of Planning, Information and Knowledge Management, IAEA
Michel Berthelemy, Nuclear Energy Analyst, Nuclear Energy Agency
Vladimir Artisyuk, Vice Chair, IFNEC (Moderator)

Advanced Reactors Summit IX & Technology Trailblazers Showcase
When: April 4-7, 2022
Where: Sun Valley, Idaho
Technology and Innovation in Advanced Nuclear Under the auspices of The United States Nuclear Industry Council.
Now in its ninth year, after successive ground-breaking Summits at Argonne National Laboratory, the University of Massachusetts Lowell, Oak Ridge National Laboratory, Texas A&M University, the University of California San Diego, the University of Tennessee, and a Virtual Summit the Advanced Reactors Summit IX will once again meet in-person to bring leading industry experts, top executives, policymakers, and thought leaders within the nuclear industry together. The AR Summit IX will continue its focus on showcasing technology developers and advancing solutions on the cost and deployment timeframe of advanced reactors, as well as practical ideas and concepts that have the potential of significantly improving advanced reactor design, deployment, and operations.
ADVANCE AGENDA TOPICS
Keynotes:
U.S. Department of Energy Perspective
U.S. Nuclear Regulatory Commission Initiatives
View From the States
National Laboratory Developments
117th Congress Outlook
International Arena Perspective
Industry CEO Perspective
Landscape:
Advanced Reactors Progress And Challenges
Decarbonization Of The Non-Electric Industry
Update On European Taxonomy And Financing
Deployment Of Hydrogen Production At Nuclear Sites
Advanced Fuel Development & High Assay LEU
Repowering Of Coal Sites For Advanced Nuclear
Update On Deployment Of Advanced Nuclear In Europe
Regulatory Perspective From Canada
Deployment Of Advanced Nuclear To Meet Ontario Carbon Reduction Goals
Status Update On The Development Of Advanced Nuclear In The UK
Customer And Finance Perspectives
Update On Space and Medical Nuclear Deployment Opportunities
R&D Update On Advanced Nuclear
Special Updates & Trailblazers Updates
And Still More To Come….
---

World Nuclear Exhibition in Paris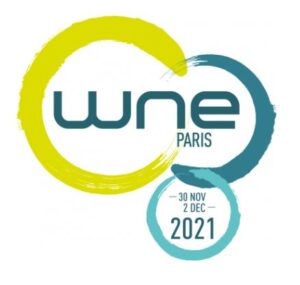 WNE is:
the top platform worldwide dedicated to the entire nuclear energy sector, for sharing, sourcing and doing business on a global scale,
an opportunity for companies of all sizes to display their know-how and skills in all areas of the nuclear energy industry,
a place to share experiences, with exhibition spaces, technical workshops, networking receptions, conferences on the latest developments and visits to sites of particular technological interest.
Description:
The WNE, World Nuclear Exhibition, is the top platform worldwide dedicated to the entire nuclear energy sector, for sharing, sourcing and doing business on a global scale.
This event takes place at Paris Nord Villepinte.
LUNCHEON & FIRESIDE WITH HIS EXCELLENCY KHALDOON KHALIFA AL MUBARAK

Khaldoon Khalifa Al Mubarak is Managing Director and Group Chief Executive Officer of Mubadala Investment Company. In this position he is responsible for ensuring the company's strategy is aligned to Abu Dhabi's objective of advancing its globally integrated, sustainable and diversified economy. Government responsibilities include, Member of the Abu Dhabi Executive Council; Presidential Special Envoy to China; Chairman of the Abu Dhabi Executive Affairs Authority, which provides strategic policy advice to the Chairman of the Abu Dhabi Executive Council, of which he is also a member; and membership of the UAE Supreme Petroleum Council. Khaldoon serves on the Boards of a number of significant businesses, including Chairmanships of Emirates Nuclear Energy Corporation, Emirates Global Aluminum and City Football Group. He is also a non-Executive Board member of First Abu Dhabi Bank. Khaldoon Co-Chairs the Abu Dhabi-Singapore Joint Forum and is a member of the New York University Board of Trustees.
His Excellency Khaldoon Al Mubarak discussed the U.S.-U.A.E. trade and investment relationship, Mubadala's work in the U.S., and the U.A.E.'s recent economic reforms including  'Projects of the 50' initiatives. Guests who attended in-person will had the opportunity to engage with His Excellency Khaldoon Khalifa Al Mubarak and His Excellency Waleed Al Muhairi, Deputy Group Chief Executive Officer at Mubadala Investment Company and Co-Chairman of the U.S.-U.A.E. Business Council, before and after the luncheon and fireside chat.

Federal R&D Funding for Deep-Tech Companies in Utah
Benjamin Samson, Director of Business Development, on January 31st, discussed the different Federal R&D funding opportunities for companies developing deep-tech in Utah. He shared how you can maximize your chances of winning Federal R&D funding. Webinar agenda included: Introduction to the world of Federal funding, Deep Dive into opportunities for Deep-Tech companies in Utah and an open Q&A
EXPO 2020 DUBAI OPENING CEREMONY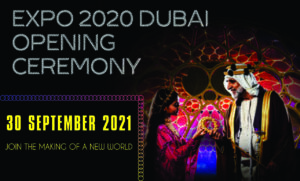 Sustainability – Mobility – Opportunity
Every day, more and more of us take a sustainable path towards a future where we all live in balance with our only home: Planet Earth. As we join forces, small actions grow into positive global movements that will help communities protect and preserve the world around us.
We live in a world of limitless connections. Explore horizons that drive human progress, as mobility continues to transform the way we live, connect with people, understand different cultures, and exchange knowledge and ideas.
There's a ripple effect in everything we do. Even one person can be the key to unlocking eight billion opportunities that can help individuals and communities create a better tomorrow, today. It's time to unleash the potential within and be an agent of change.
GAME CHANGING GENERAL SESSIONS—IN PERSON AND ONLINE

With new threats on the horizon every day, it's not enough to stick to your usual game plan. Hone your offensive and defensive strategies to mitigate risk and reduce vulnerabilities across your enterprise at Global Security Exchange (GSX).
GSX is where you'll share challenges, collaborate on solutions, and hear directly from experts addressing the biggest challenges in security, including return-to-workplace, global leadership, workplace violence, cybersecurity, business continuity, crisis management, and more. With options to engage in person in Orlando or access education sessions, live Q&As, and network from anywhere in the world, GSX will deliver the insight and expertise you need to attack threats and defend your most valuable assets.
Industry Briefing: Selling US Made/BAA Products to the Government – EO 14001
April 22, 2021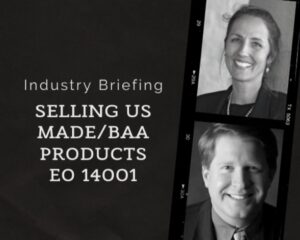 On January 21, 2021 President Biden signed Executive Order (EO) 14001 "Strengthening Buy American Provisions, Ensuring Future of America is Made in America by All of America's Workers." As a top priority of the new administration, this EO provides significant new competitive advantages for US manufacturers to provide products to the federal market. This briefing will review the President's initiative and how US Manufacturers can utilize government and industry tools that "Connects new businesses to contracting opportunities by requiring active use of supplier scouting by agencies" as the new order "Directs a cross-agency review of all domestic preferences."
Contracting alone accounts for nearly $600 billion in federal spending. "This order is deeply intertwined with the President's commitment to invest in American manufacturing, including clean energy and critical supply chains, grow good-paying, union jobs, and advance racial equity."